From Arenas and Sports Facilities to Universities and Local Schools, Using the Best Ice Rink Tools Makes a Big Difference in User Experience
Ice Rink Maintenance Tools
Many people assume that ice rinks work without much need for maintenance. However, if you've ever run an ice-rink, you know that nothing could be further from the truth. Ice quickly gets pitted and cut, and it absorbs a shocking amount of dust and bugs.
That's why you need to regularly maintain the surface of the ice, especially in a sports ice rink. There are also the dasherboards to consider, which can get very grimy and dirty as the season wears on.
Luckily, there are plenty of ice rink tools available that make cleaning and maintaining your ice rink a breeze.
Ice Rink Resurfacing Tools
The resurfacer has had a long and exciting history, from Frankenstein constructions made from war surplus to the modern machines we recognize today. They're a vital part of an ice rink's maintenance. An excellent ice surface is essential to many sports, including hockey and figure skating.
Professional ice rinks that host NHL teams need to be able to resurface the entire rink between periods in three minutes or less. That's why these rinks have professional ice-resurfacing machines that can resurface the entire rink in eight minutes. Rinks can run two machines between periods in games.
However, there are still ways to resurface an ice rink without spending over $55,000 for a professional ice-resurfacer. You can use a hose to flood the rink, and also shovels, scrapers, and squeegees to produce a mirror-like finish. If you've got a small rink, this is probably a much better option than a large, loud machine.
Ice edging tools
The ice edger is often considered the second-most important maintenance tool after the resurfacer. The main reason you need an edger is to get rid of ice that naturally builds up at the edge of the dasherboard kicker plate and the ice's surface. There are many reasons why ice builds up at this edge.
Inexperienced ice resurfacers may not resurface so close to the dasherboard. Players may perform skating drills close to the dasherboard and throw up excessive amounts of snow in the process.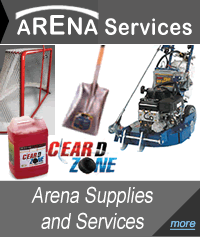 If left unattended, this edge ice can cause "bowl ice." The ice sheet is thicker at the sides than in the middle, which can seriously affect puck control and can contribute to player injuries.
There are many ice edging tools available, depending on your particular needs. When selecting which tool you want, be sure to consider the service requirements, the power source, the expected life cycle as well as the cost of installing replacement blades. Some models to consider include:
Zamboni Gas Power Edger: This edger is designed for ease of use. It has a "wander-free" control, so it is easier to control than other models, and the operational controls are found on the handle. It has eight-sided 18" cutters, which don't need to be replaced for a long time. The gas or propane engine puts out a solid 10.5 HP, more than enough to handle any ice edge.
Zamboni Electric Power Edger: This version of the edger comes with a corded electric motor that is able to cut through any ice edge. It has an 18" cut path, and all the controls are found on the handle for ease of use. This solution works well if you don't want to be breathing fumes while you work. But you may find the cord frustrating to work around.
Olympia Battery Power Edger: This tool is the perfect solution for ice rinks that want to be eco-friendly and non-polluting but don't want to deal with the hassle of electric cords. The battery on this edger can last up to 40 minutes, and the 9 HP engine is capable of high-performance ice edging when you need it the most.
Zamboni EZIII Eger: If you're looking for a powerful electric battery-operated edger from one of the most reputable brands in the business, this is a great option. It is designed to be easy to use with large rubber wheels to prevent wandering. It includes a depth handle to make on-the-fly adjustments to depth and also eight-sided cutters that last longer than other blades. The motor may produce less HP than other models, but it is still more than adequate for most edging needs.
Dasherboard Cleaning
By maintaining your dasherboard, you can generate the impression that your ice rink is well-taken care of. Dirty dasherboards can harm the appearance, and even reputation, of your ice rink.
So, it is a good idea to keep up with regular cleaning and maintenance to ensure that they stay in tip-top shape, in and out of season. Luckily, many products can make cleaning your dasherboards easier than you'd expect. These include:
Restoration kits: These all-in-one kits contain everything you need to keep your dasherboard squeaky clean. They usually come with a high-speed polishing tool and a couple of polishing pads, micro-fiber towels, a cleaning brush and a backing plate for the polisher. All you need to add is some cleaning polish, and you're all set.
Clear D Zone Glass Rink Polish: This polish is safe to use on acrylic, polycarbonate or tempered glass and is one of the most effective polishes on the market. It works exceptionally well when used with a polishing tool that can generate a lot of friction. It is also much more economical than other polish products. You only need three gallons to take care of a full-size NHL rink.
Rink erasers: These erasers are a great supplement to a regular cleaning routine. They're just little scrubs that can remove all sorts of marks from your dasherboard with just a bit of water and elbow grease. They can be used on most materials, including tempered glass, ad panels, polycarbonate, and even painted locker room walls.
Conclusion: Do You Have Everything You Need to Maintain Your Facility?
When you're maintaining a high-quality ice rink, it pays to buy only the best products. Get in touch with Athletica to see what products they have on offer that will help you keep your ice rink looking great.